Every month almost 1000 vehicles are stolen in Portland. While most (82%) are recovered within 30 days, this is still a major inconvenience, expense and source of stress for those whose cars have been stolen. But which cars are thieves targeting, and is yours one of them?
Which type of cars are most likely to be stolen in Portland?
The top 10 Models that were stolen in Portland over the past 12 months are:
Subaru Outback and Legacy
Subaru Forester
Honda Civic, CRX, Del Sol
Kia Soul
Hyundai Elantra
Honda Accord
Honda CRV
Ford F250
Ford F350
Subaru Impreza, Impreza Outback, WRX
Source: Portland Police Stolen Vehicle Database April 27, 2023
The available data doesn't break down the model years for each model, but if you dig into the data, you will quickly see a trend. If you look at these top 10 models by year, you will notice that most of them are over 15 years old.
Here's the chart for the top vehicle (also probably one of the most popular vehicles in Portland) the Subaru Outback / Legacy.

Source: Portland Police Stolen Vehicle Database April 27, 2023
The sharp drop-off is for the 2005 model year. (The Portland data source only shows the year if you hover over the chart.)
Why are older vehicles stolen more often than newer, more expensive cars?
You might think that thieves would target newer vehicles because they are worth more, but they typically target older vehicles that are easier to steal.
The sharp drop-off you see in the above chart is due to the addition in the new 2005 model year of a better vehicle security system with an immobilizer that prevents the vehicle from being started unless you have the correct key with a small computer chip in the key.
The way the immobilizer works is that the vehicle's ignition switch needs to detect a specific chip in the key before it will enable the starter circuit and allow the vehicle to start. Even if you have a key that is cut correctly and fits into the ignition switch and can turn the switch, if the small chip that is embedded in the head of the key is not detected by the security system, the immobilizer will not let the starter engage. And therefore the car can not be started.
Older cars typically have keys that have worn down, and it's sometimes possible to open the door or start the ignition with a "Jiggle Key." This is a key or other tool that is filed down to fit in the lock or ignition switch and can often turn the ignition by jiggling the key. Much like how a lock is picked.
But if a thief doesn't want to be bothered with a jiggle key they will often just break open the ignition switch and try to start the car using the exposed ignition switch behind the lock mechanism.
How do you know if you have a chip key / immobilizer?
If any of the keys to your vehicle are just a plain piece of steel with no plastic head, you do not have a chip key.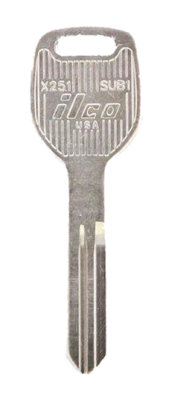 The key on the left below is from a 2005-2009 Subaru Outback and has a chip embedded in the head. The key on the right is a key for a 2000-2004 Subaru Outback and does not have a chip in the head.
Even if your key does have a plastic head or built-in remote control, it still might not have an immobilizer.
So how do you know if you have an immobilizer and chip key?
If you own any Subaru from 2004 or earlier you do not have a factory immobilizer or chip key.
From 2005-2009 Subaru rolled out immobilizers on various models. See this website for a full list.
If your car is a model year 2010 or earlier it's worth checking. If you're not sure you can either search online using your Make, Model and year. Or you can call a local locksmith or hardware store and ask. If your local hardware store can make you a copy without having to program anything, it is not a chip key.
What about newer cars?
If you look at the chart below there is a second surge in thefts for cars from model years 2010 through 2022. The majority of these cars are from Kia and Hyundai because they decided not to add an immobilizer to their vehicles to save costs. (Kia and Hyundai are both owned by Hyundai Motor Group). Thieves and teenagers have discovered this weakness and the Tik Tok Kia Challenge took off.

Source: Portland Police Stolen Vehicle Database April 27, 2023
The good news is that Kia and Hyundai are releasing software updates and providing low cost alarms with immobilizers. So if you own a Kia or Hyundai contact your local dealer to see if you qualify for the updates.
What can you do to prevent your car from being stolen?
If you own an older Subaru, Honda, or Ford pickup truck, your car is being targeted by thieves.
First, figure out if you are at increased risk of having your car stolen. Is the make or model that you own one of the most commonly stolen cars in the Portland area?
Next, determine whether you have an immobilizer / chip key. If you do not have one, definitely consider purchasing and using a steering wheel lock, kill switch, or alarm. Always make sure you lock your doors and (it seems obvious), always take your keys with you when you leave the car.
We are currently developing an inexpensive add-on immobilizer for sale on our website. More information will be coming soon, but we hope that we can help to lessen the number of cars that are stolen every month in Portland.