As of January 2023, we are no longer licensed dealers in Oregon. We are fully transitioning our business model to car consulting / auto brokerage services. This means that we will be working on the same side of the table as our customers, helping folks search for, find, inspect, and purchase a car that is right for them without us having a "business interest" in the vehicle. We think this is a better fit for what our customers are looking for and are excited to help you find the right vehicle!
After nine years as dealers, we have found and purchased hundreds of cars and look forward to using this inside knowledge to help our customers. We want to find the best car for you – not the best car that we have in stock that might work for you.
Ian recently helped Michelle and Grant G. purchase their first fully electric vehicle. Check out the recent review they sent us!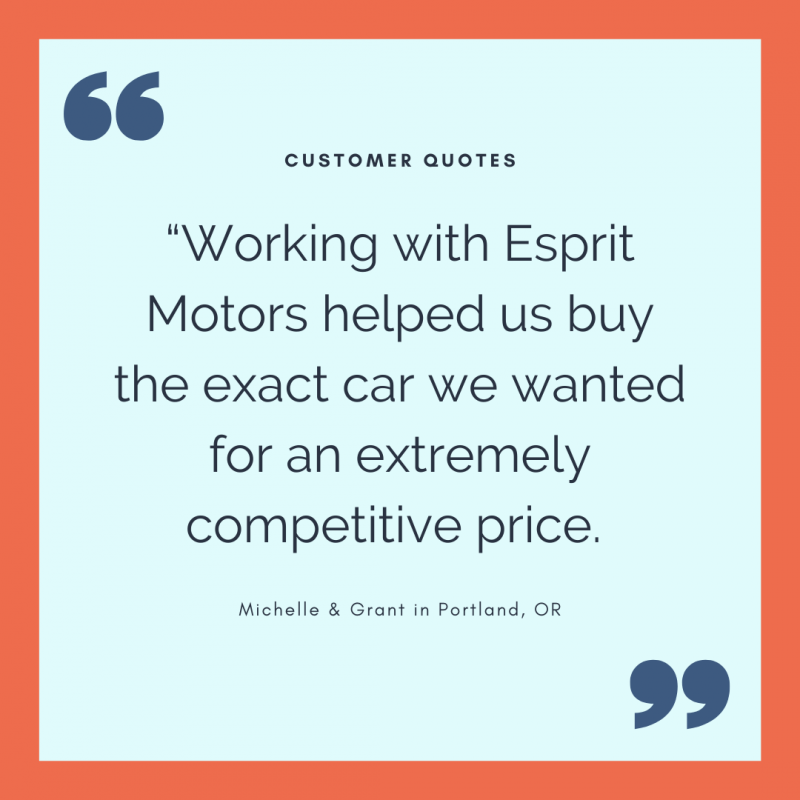 "Working with Esprit Motors helped us buy the exact car we wanted for an extremely competitive price.
The last couple of years in the car market have been absolutely wild, with low inventory, prices sky-high, and little negotiation. It was daunting to want to purchase something but not feel like we were at the mercy of a dealership.
Ian took our list of cars and options and used his market knowledge and dealer access to help us understand what was available in the market, how different factors affected pricing, and the wholesale-retail spread so we could feel confident that when we found "the one" it was a very good deal. His knowledge and relationships with shippers allowed us to search the full West Coast. Ian advised us on what to watch out for and counseled us to skip over some listings when he felt like the seller might be holding something back. Working with Esprit, we had access to both the wholesale and retail markets and the inside knowledge to successfully identify good deals in each.
Once we identified the car we wanted to purchase, Ian counseled us during the negotiations and arranged shipping for an extremely competitive rate. In the end, we got the car with every option we wanted, delivered to Portland, for the best price we had seen during our two-month search."
— Grant and Michelle G.
If you would like to hear more about our car consulting / auto brokerage services, please read more here and send us an email. We can fill you in on how we can help you find, locate, inspect, and purchase the right car for you!