What is The U-Bend Fuel Line?
The U-bend fuel line that we created is designed to replace a molded, high-pressure, rubber fuel hose on the outlet of the Alfa Romeo GTV6 or Milano fuel pumps.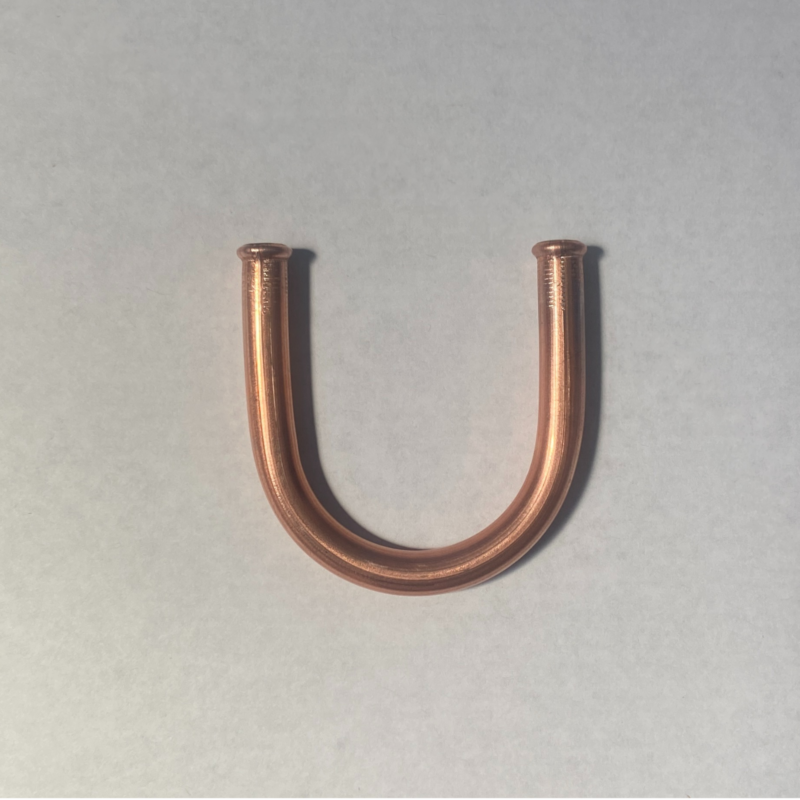 Alfa Romeo Fuel Line 180 degree U Bend 8mm 5/16″
8mm hard fuel line 180 degree U bend for Alfa Romeo Milano and GTV6 chassis
---
The GTV6 and Milano share the same basic engine, transaxle, and suspension design, but on some years and models, the fuel pump is on the passenger side, and on others, it is on the driver side. On models with the fuel pump on the driver's side, the rubber hose coming out of the fuel pump has to turn 180 degrees before going into a hard line that takes the fuel from the driver to the passenger side of the car, where the fuel filter is located.
Who Should Buy The U-Bend Fuel Line?
If you have a 1981-1986 Alfa Romeo GTV6 or 1987-1989 Alfa Romeo Milano V6 and you plan to replace the fuel pump, rubber fuel hoses, or fuel filter, you should check your fuel filter layout to see if you need this fuel line and inspect your molded rubber hoses for cracks or age. If those hoses are older than 10 years, we recommend replacing them.
The fuel hoses going into and out of the fuel pump are 8mm or 5/16" inner diameter and should be rated for high-pressure fuel injection. If you are replacing your fuel pump, we recommend replacing all those high-pressure lines near the pump and using this U-bend to replace the original molded hose, which is no longer available.
List of models that the U-Bend line will work for:
1981 Alfa Romeo GTV6
1982 Alfa Romeo GTV6
1983 Alfa Romeo GTV6
1984 Alfa Romeo GTV6
1985 Alfa Romeo GTV6
1986 Alfa Romeo GTV6
1987 Alfa Romeo Milano 2.5 V6 (Silver, Gold or Platinum Trim)
1987 Alfa Romeo Milano 3.0 V6 (Verde Trim)
1988 Alfa Romeo Milano 2.5 V6 (Silver, Gold or Platinum Trim)
1988 Alfa Romeo Milano 3.0 V6 (Verde Trim)
1989 Alfa Romeo Milano 2.5 V6 (Silver, Gold or Platinum Trim)
1989 Alfa Romeo Milano 3.0 V6 (Verde Trim)
Personal Story: Why We Developed The U-Bend Fuel Line
In 2017, I replaced the fuel pump on the 1987 Alfa Romeo Milano we were building for the 24 Hours of Lemons series. The rules state that the fuel system must be original, or you need to switch to a racing-approved fuel cell which is expensive and time-consuming. So our goal was to keep the fuel system as original as possible.
We discovered that the high-pressure molded rubber fuel hose that comes out of the fuel pump is no longer available for sale when we went to order the fuel pump. So back in 2017, when we replaced the fuel pump and all the old rubber hoses, we just used a longer piece of straight fuel hose in hopes that the larger bend radius would keep the hose from kinking. However, that did not fix the problem because when we inspected it again this year before our latest race, we found that the hose had kinked and was likely blocking some flow, and was also at risk of cracking.
Since we had some extra NiCopp tubing left over from some brake upgrades, we decided to make a hard 180-degree U-bend to eliminate this potential failure point.  And it performed flawlessly over 16 hours of full-throttle racing at the last event.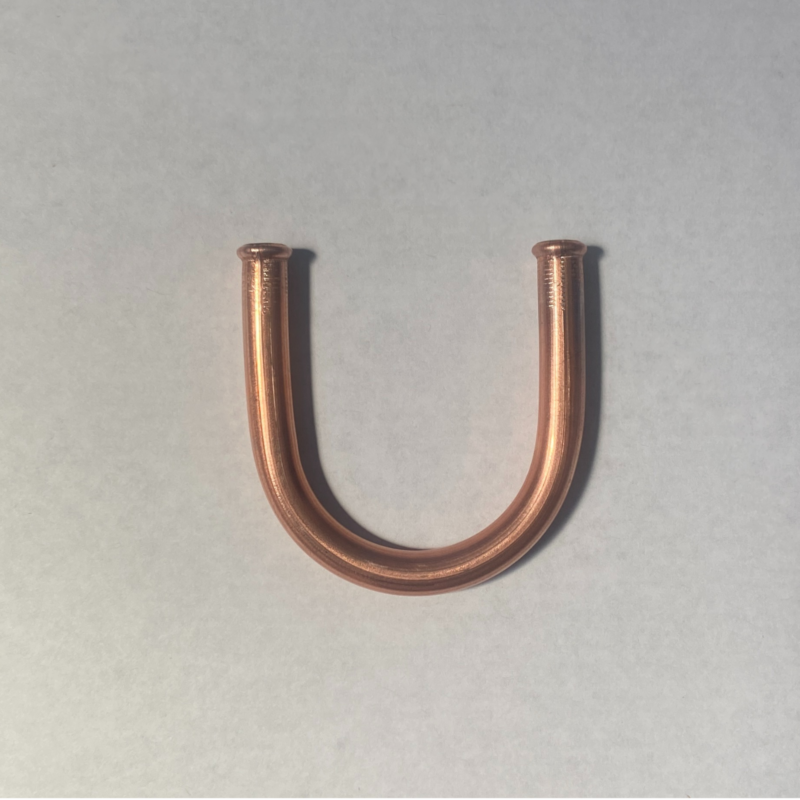 Alfa Romeo Fuel Line 180 degree U Bend 8mm 5/16″
8mm hard fuel line 180 degree U bend for Alfa Romeo Milano and GTV6 chassis