Last week we purchased a Subaru for a customer. She needed to buy a car immediately and since we did not have enough time to buy her one through a dealer-only auction, Ian immediately went to work scouring Craigslist.
Buying a Subaru in Portland is a tricky task. They are very popular here and when they do pop up at dealer-only wholesale auctions, they tend to sell for around 30% over the Blue Book wholesale value! We had a hunch that was because most sellers know that Subarus are in demand here in Portland and therefore opt to sell their Subaru privately rather than trade it in. However, experiencing the private party sale of a Subaru in Portland was eye-opening.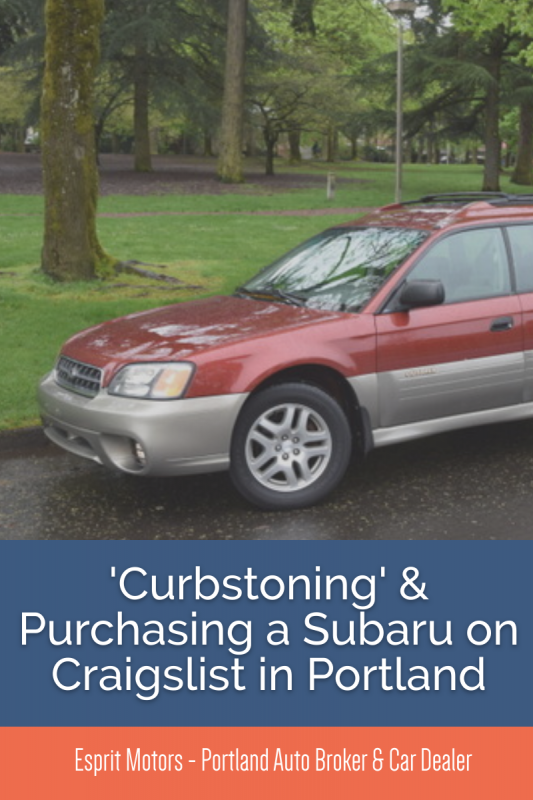 Car "flippers" / curbstoners / unlicensed dealers seem to be everywhere
Ian contacted a few sellers and it became apparent that a shocking number of Subaru sellers were flipping the cars. This means that they recently purchased the car, usually for a very low price, cleaned it, and then listed it for sale on Craigslist. These sellers a.) had not owned the car for very long and did not know much about the car's history, b.) had not titled the car in their name, and c.) had some kind of story ("I'm selling it for my grandmother…"). Sketchy to say the least and a frustrating situation for a potential buyer.
People who repeatedly sell cars that they do not own (the title is not in their name) are called "curbstoners."
They do not have a dealer license, insurance, or a bond, and are unregulated dealers that purchase cars cheaply from salvage auction lots (yikes!) and are now trying to sell the car illegally. If someone is trying to sell a car to you without going through the "hassle" of changing the title, please consider what else the seller is not telling you. If the car is not in their name, how can you be sure that they own it? The car could also have been severely damaged, welded back together, and is currently unsafe for driving. It may not be the car that you think you are getting.
Here is a recent conversation that we had with a suspected curbstoner that was selling a Subaru on Craigslist:
Please note: This conversation was conducted entirely by text message because the seller did not want any calls about the car — another huge RED FLAG!
Esprit: I'm interested in talking to you about the Subaru that you are selling on Craigslist.
Curbstoner: Which one?
[RED FLAG]
Esprit: The 200x with xx,xxx miles.
Curbstoner: It's really clean, especially the engine all looks new. I will send you a copy of the CarFax.
[RED FLAG: If an engine compartment looks too clean, it could be because the seller had it detailed. This is a red flag because any previous leak or issue will not be visible. Most people don't worry about their engine compartment looking clean unless they are trying to hide something.]
Esprit: Has the timing belt/water pump/radiator been replaced?
Curbstoner: Yes.
Esprit: Do you have receipts for the timing belt/water pump/radiator being replaced?
Curbstoner: No, but you can have your mechanic come out and check it out.
[RED FLAG — Hmmm… No receipts and no mention as to who did the work.]
Esprit: From the CarFax, it looks like you have only owned the car for two weeks. What's the story?
Curbstoner: My girlfriend inherited the car from her grandmother. She decided that she didn't like a manual transmission so she sold it to me and now I'm selling it.
[RED FLAG: So who really owns this car? The seller still does not know. According to the DMV, the transaction is completed when the title paperwork is submitted and the name on the title is changed to the new owner. Is the title in the grandmother's name? The girlfriend's name? Also, this whole story sounds fishy.]
Our advice:
Before you contact a seller, run a Google search on their phone number (assuming that it is included in the ad). We tried this and past ads that were indexed on car listing sites popped up. It became obvious that quite a few private party sellers were selling many, many cars and passing them off as their own.
When buying a car, always ask these four questions immediately:

"Do you have the title?,"
"Is the title clean?,"
"Is the title in your name?," and
"Are you holding the title in your hand right now?"
These questions will weed out the bulk of the issues that you will run into when buying a car from a private party on the Internet.
Always run an AutoCheck or a CarFax report on the car's VIN. Always. Either report will tell you the DMV record of who owned the car, for how long, and whether there are any issues with the title (brands, etc.). You can also sometimes learn what the car was used for (former company car, former taxi, how many owners). With a CarFax, you may get information on the maintenance history of the car if the car was serviced by the dealership or a mechanic or service station that reported the maintenance (like Jiffy Lube).
We think used car dealers get a bad rap.
Licensed dealers have to follow a lengthy list of regulations from the DMV and the Department of Justice to protect the rights of a car buyer and to ensure that a buyer is getting a truthfully represented, safe car.
When you choose to purchase a car from an unlicensed dealer or curbstoner, you are really taking a huge gamble. Please consider this next time you are in the market for a used car and make sure that you protect yourself by buying a used car from a licensed dealer.
---