Online car pricing guides frequently undervalue Subarus in Portland's Subaru market due to a lack of data.
There are a few reasons why the Subarus that we sell at Esprit Motors may be priced differently than the online pricing guides' prices.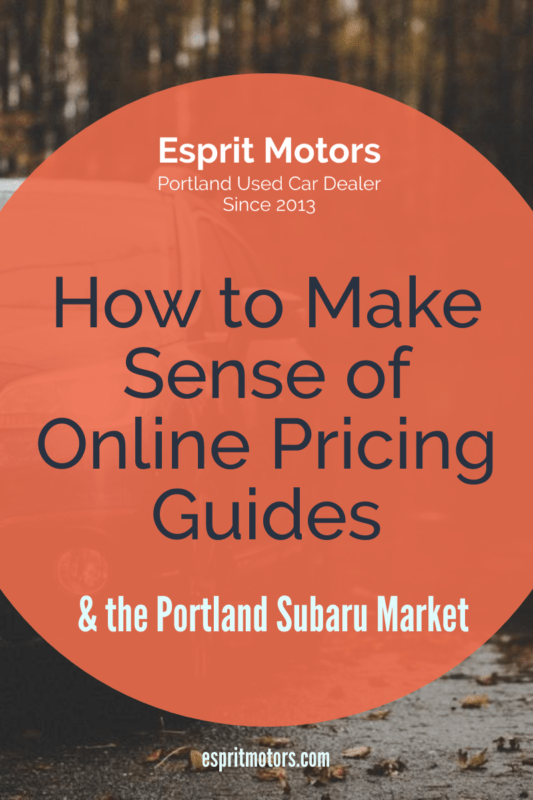 How Esprit Motors Prices Subarus
First, we price our cars based on the current market in Portland, Oregon for the vehicle and the condition (mileage, options, age) of the vehicle. Subarus are very popular cars in the Portland area and there is more competition for cars in great shape.
This increases the price dealers pay to purchase the car as higher wholesale prices lead to higher retail prices.
Second, we also recondition our cars to bring them up to our high standards. This sets us apart from many used car dealers who typically only buy the car, detail it, and post it for sale. We have an independent Subaru mechanic inspect every car and advise us on what to do to make it safe and reliable.
Having been dealers since 2013 and focused on Subarus since 2014, we know the local Portland car market very well.
We price our cars fairly so that they sell quickly and we do not inflate the price.
Why online car value guides are wrong about the Portland market
There are several reasons why Kelly Blue Book and NADA Guides do not accurately reflect the Subaru market in the Portland area. Both of these online guides use data that comes from previously reported sales to build an estimated value.
However, in Oregon, sales prices are not reported to the Department of Motor Vehicles when a car changes owners. DMV does not need this information to calculate the sales tax owed on the car because Oregon does not have a sales tax.
So, the online pricing guides have to make assumptions for Oregon, and, frequently, these assumptions are incorrect. As pricing is not based on sales data, it is less accurate than in other parts of the country.
Kelly Blue Book specifically provides a range of values for a car given its age and the number of miles on the odometer. However, this range of values leads customers to believe that the average price is the most likely price.
If you carefully read through the Kelly Blue Book website, it says that prices in the red zone of the range reflect areas with high demand and low supply — like Portland. Customers in Portland need to consider this when looking at the range of values because prices on Kelly Blue Book's site tend to be closer to the high end of the range given on that website.
The Kelly Blue Book average value also includes cars with rebuilt titles, major damage, or very high miles. These cars at the bottom of the price range skew the average price downward.
A car with a clean title, no major damage, and average miles usually sells for above the average price listed on Kelly Blue Book.
Advice to customers
Knowing all of this, what is a customer to do when trying to determine a fair price for a car?
If you are committed to using an online pricing guide, consider using CARFAX's pricing guide (called its "History-Based Value" report). This takes into consideration the car's title history, number of owners, reported accidents, reported maintenance history, and other factors.
Our advice is to use Kelly Blue Book or NADA Guides' prices as a single data point and not as the final word on pricing. Look on Craigslist and see the list price of similar cars in your area.
Consider making a spreadsheet that lists vehicles that are similar to the one that you're looking for with their mileage, condition, trim package/options, year, and price.
Look for a car with recent repairs and use that to differentiate the price of one car over another in a competitive market.
We will happily answer any questions over the phone about our cars and why a particular car might be priced higher than the online pricing guides.
---